How are financial institutions embracing the latest Fintech trends? What do others have planned in terms of self-service, tablet-based associates, and other banking technologies to optimize their branches?
Join this lively panel discussion with a variety of credit union executives to hear their perspective on the banking outlook for 2022, including what they invested in last year, what worked, what didn't, and what they have planned for the upcoming year ahead.
This is guaranteed to be an insightful event for financial executives who are looking to plan for the year ahead.
Why listen?
Discover what technology your peers are investing in for their branches, including self-service, tablet-based associates, cash recyclers, and other integrated technologies.

Hear the good, the bad, and the ugly of new technology implementations and what you can do differently to make yours run smoothly.

Better define your technology strategies for 2022 and beyond to feel more confident in your investments.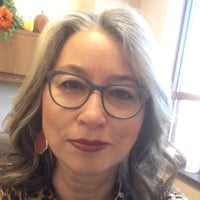 RHONDA DREXLER
VP Branch Operations
& Resource Center,
CoVantage Credit Union