3 Items on Every Good Banker's Wishlist
You have a lot of people to please: board members, employees, and clients. But the best bankers know the easiest ways to please all three. Check out the 3 most impactful strategies to make your FI's wishes come true and make the new year's spirit all the more joyful.
Wish #1: Making Your Bosses Happy
Reducing costs is the main target for most, if not all, financial institutions next year. It's no secret that a branch network is costly to run. Even as the largest source of revenue, as it is for almost all banks & CUs, it is an easy target for looking to cut expenses. The go-to strategies for reducing operating costs are to close branch locations and cut staff hours, which will also likely affect revenue negatively.
It's quite the conundrum you face, that's for sure. But, closing branch locations and letting go of staff aren't the only solutions here.
What are the other good bankers wishing for?
A way to reduce costs while also improving the client experience and increasing revenue.
Lucky for you, Santa partnered with CFM to deliver you the gift of premier core integration this year. This will save you money on payroll and maximize the efficiency of both your staff and machines. Need to see it to believe it? We did the math to give you the proof you need.


Wish #2: Employees & Staff Making the Difference
The staff who interact with your clients on a regular basis make all the difference in your financial institution's success. As JW Marriott has stated, "if you take care of your people, your people will take care of your customers, and your business will take care of itself."

Finding good employees can already be a challenge. And it's not all about the benefits package or salary you can offer. You'll be able to find and retain the best employees by creating an environment that everyone is excited about and where they can see career progression. But, finding employees who can be difference-makers is less successful when using unintuitive and clunky legacy systems.

By simplifying their jobs through technology, you will make your current employees happier and more successful. This technology has to be exciting and interesting. It must be very well automated and easy to execute for optimal effectiveness. You'll find that your staff becomes more focused on the client and less on how frustrating the systems and devices are to use. A great place to start giving branches and revenue this much-needed face-lift is with core-integrated tools like a tablet.
What are the other good bankers wishing for?
A tablet-based banking tool that maximizes employee efficiency & client satisfaction.
Maximize every dollar you spend on employee wages by providing them tablets with intuitive interfaces to facilitate more sales opportunities and increase their efficiency with any task or transaction.


Wish #3: Happy Customers to Increase Revenue
A happy and valued customer is the single greatest hope for maximizing your financial institution's future prosperity. A happy customer will spend more money with you and, as your biggest advocate, convince others to bring their business to you as well.

The path to achieving this is not through cool rewards, lollipops at the teller stations, or loyalty programs. In the end. it all comes down to a governing principle behind all highly successful businesses and partnerships—a smile they can trust.
What are the other good bankers wishing for?
The keys to unlocking the best-in-banking customer experience.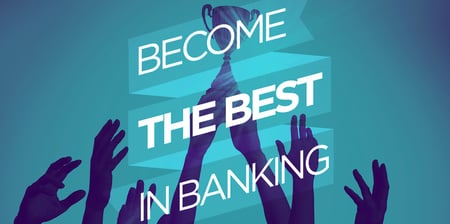 Offering a top-notch mobile/digital banking platform alongside the latest self-serve machines are both keys to the future of banking. But they can also require a hefty up-front investment. If you're like most banking executives at the moment, reducing costs and maximizing efficiency is the main focus for the upcoming year.
However, you can reduce costs while opening the door to new banking innovations. You can easily shift to a Universal Associate staffing model and actually save money by doing it. Here's why this is a good move for the cost-wary financial institution.
Imagine you can now greet customers at the door and handle all their questions or transactional needs from anywhere in the branch. And how does this help customers feel they've found a smile they can trust? Because staff can naturally provide a more efficient and personalized interaction that shifts seamlessly between transactional and advisory-based topics while building a personal connection with the client.
Building relationships through financial advisory services will help clients feel that they are "the favorite customer" and can then trust that each staff member has their best financial interests at heart. With trust and pleasant experiences dictated by the client, you will almost certainly see revenue and new client numbers rise.

These Wishes Can Come True
It is not only possible, but it's also plausible to reduce costs, improve employee success, and increase revenue generation. You can see each of these wishes come true by employing the right balance of integrated technology and your irreplaceable personnel.
The industry's best core integrations will help please your bosses by cutting costs through achieving optimal efficiency and expanding future strategic options. With core-integrated devices and a clear vision of their career trajectory, employees will become more efficient, effective, and happy in their roles. And these improvements all trickle down to help your clients trust your financial institution and bring you more business.
As the top banking integration specialist in the industry, CFM is the expert on making these wishes and the future of banking a reality for your FI now. Let's set up a time to talk about your goals and plan to reach them together.