One Way You're Not Using Cash Automation (But Should Be)
What's the latest way financial institutions are using teller cash recyclers and dispensers to deliver the ultimate, WOW branch experience and increase ROI?
Everyone talks about the many possibilities of cash automation and what it can do for increasing efficiencies and helping staff better serve clients. But were you aware there is a new, lesser-known way you can deploy cash automation to takes efficiencies and the client experience to a whole new level?
The Dilemma of Typical Cash Automation Configurations
Most financial institutions don't even know it, but they are unnecessarily limiting themselves from the full capabilities cash recyclers and dispensers can deliver.
"How?", you ask...
The usual branch setup for a Teller Cash Recycler (TCR) is either a single teller configuration, where one staff member uses the machine at the teller line; or a dual teller setup, where two associates share a TCR, using either the left or right side of the machine. The TCR is only accessible to the staff sitting adjacent to a connected desktop PC.
While this setup might work great for the tellers at the counter, what about the rest of your branch staff? What happens if a Service Representative is opening a new account at their workstation, and the client wants to make a deposit?
The Service Representative is faced with a dilemma, with choices like these: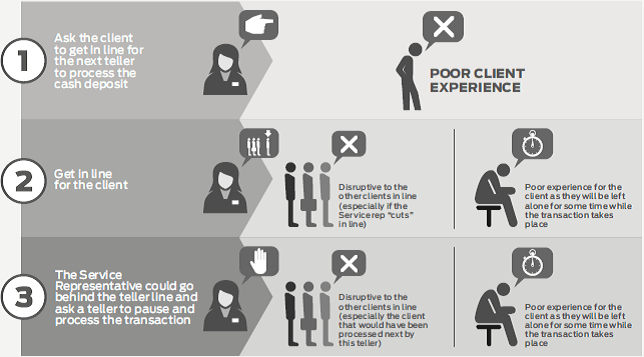 Breaking the Chains of Hardware
What if you could remove the limitations of only one or two employees having access to a TCR, and give ALL staff members the ability to securely process a transaction through the TCR—from anywhere in the branch?
As highlighted in our Branch Design Trends article, financial institutions "in the know" are breaking the chains and implementing Remote Transaction Assist (RTA) to create the ultimate WOW experience and get more ROI out of their cash automation investment.
Any withdrawal or deposit request is initiated at a staff member's workstation on any device that can access the internet (i.e. a tablet, PC, iPad, etc.). The transaction is then processed at the TCR once access credentials are entered by the staff member.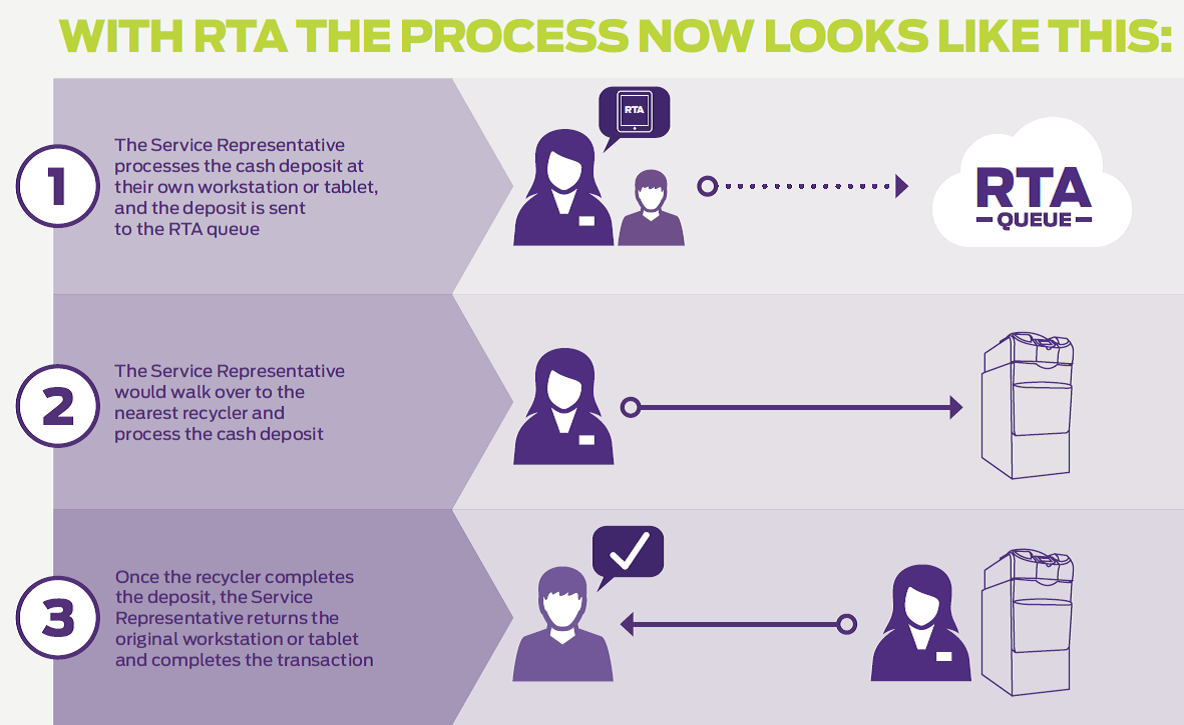 All associates (FSR, Teller, or the Branch Manager) can now leverage a TCR from anywhere in the branch and handle ALL client transactions. That means a better experience for the client, a better experience for staff, and a better flow within the branch. All with less hardware and capital expense!
So, there you have it—a better way to deploy and leverage your TCRs in the branch that takes efficiencies and a great client experience up a notch.