How ADA Compliance Changes Will Affect Self-Service in Banking
Banking will never be the same. Technology is innovating at a rate that financial institutions aren't currently matching, but law may force you to adapt sooner than you would have thought. But there's no need to panic. You can future-proof your self-service machines.





One of the biggest changes we're witnessing in the current banking world is the increased use of tablets and self-service options in banks and credit unions. These tools allow clients to access their accounts, check their balances, and perform so many other transactions without the need to visit a teller or wait in line. However, with the adoption of these technologies comes the responsibility to ensure that they are accessible to all clients, regardless of their limitations.
Providing ADA-compliant self-service machines will help banks avoid legal issues related to accessibility. The Americans with Disabilities Act (ADA) requires businesses, including financial institutions, to provide reasonable accommodations for people with disabilities. Failing to provide these accommodations can lead to legal action and damage a bank's reputation.
In the past, this meant installing ramps and making physical branches accessible to those with mobility impairments. Today, it also means ensuring that self-service options and ATMs are accessible to those with visual, auditory, and cognitive impairments. Up to this point, banks and credit unions installed ATMs with braille keypads, audio instructions, and other assistive technologies to meet these requirements. Moving forward, ADA requirements will only become more strict as the US Access Board considers new accessibility rules for self-service kiosks.
What will the Future look like?


The ADA recently finished accepting public comment on 9 questions posed in its Advanced Notice of Proposed Rulemaking (ANPRM) surrounding SSTMs and self-service kiosks. Questions 6 & 7 would have likely caught most banking executives' attention:
"Question 6. Should requirements for ATMs and fare machines in the current ADA and ABA Accessibility Guidelines be updated as part of this rulemaking...?"
"Question 7. The Board seeks comment from users and manufacturers of self-service transaction machines and self-service kiosks on their experiences in using or designing accessible machines and the benefits and costs associated with the proposed requirements."
The ANPRM included a matrix prepared by the Access Board that compares the current accessibility requirements for ATMs & Fare Machines, applicable hardware under Revised Section 508, and airport kiosks. The good news is that there are some commonalities among the requirements, which may supply insight into how the Access Board will approach these issues. Here's what they could be looking at:
The usability of operable parts for individuals with disabilities;
Speech output requirements, privacy considerations (i.e. headset/audio jack), and user ability to change volume, interrupt and/or repeat audible content;
Numeric keys and other controls that are discernable by touch/tactile sense, and their format and organization;
Display screen requirements, character/font size, and visibility;
Braille instructions on the devices
And clear or unobstructed floor space or area in front of the devices.
The US Access Board also commented further, saying, "the ADA and ABA Accessibility Standards require ATMs and fare vending machines be accessible to people who have mobility disabilities, limited dexterity, or are of short stature by addressing clear floor space, reach range, operable parts, privacy, speech output, braille, and display screens."



Well, the Bureau of Internet Accessibility succinctly interprets what some of the expected "new" rules may entail below:
"Kiosks will need appropriate physical accommodations, which should be considered when placing and installing the devices."

"Kiosks should not rely on a single type of user input (such as a visual touchscreen that doesn't support audio output)."

"Kiosk software will need to meet Revised Section 508 standards, which incorporate the current Web Content Accessibility Guidelines (WCAG) 2.1 by reference." However, you can also look into the upcoming release of the WCAG 2.2, and even further distant—but more significantly altered—WCAG 3.0 before making any decisions set in stone. (Sidenote: These web content standards will also affect your online and mobile self-service UX.)

"All users must be presented with an equivalent experience. For example, a kiosk's speech output must provide all of the information displayed on the screen."
Want to keep going down the compliance rabbit hole? You can get a deeper analysis on the ABA Risk and Compliance website.



Many FIs are postponing any investment in new self-service tech until they're certain that they know what the future of branch banking looks like. The problem is that the branch network will continue to be a part of the client's preferred hybrid (digital and physical) retail banking experience for quite some time. Self-service will become the all-action transaction stations that people instinctually gravitate towards.
Here are four reasons why you shouldn't wait to upgrade and future-proof your self-service solutions to meet these heightened ADA requirements:


1) It's not a matter of if, but a matter of when.
As self-service technologies continue to evolve and become more widespread, we'll likely see even more changes in the industry, including changes in how self-service options and ATMs are designed and implemented. These rapid technological innovations will make heightened accessibility requirements an eventuality, even if those standards take a bit of time to be set.
So, why postpone the inevitable—especially when you can become a forward-thinking pioneer in the eyes of consumers?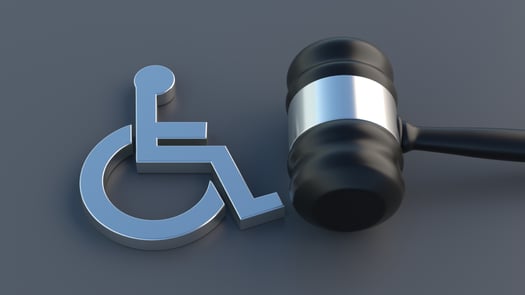 Consumers still value in-person service for a large portion of their daily errands, tasks, and other needs. However, a growing contingent of clients will complete transactions through self-service kiosks whenever self-service options are available. Transactions being handled by self-service machines is excellent news for financial institutions, but we'll get to that in reason #3.
As self-service trends continue to become the main pipeline for clients' financial interactions with their financial institutions, the expectation of an intuitive and ADA-compliant user interface will grow congruently. You may or may not yet be required by law to provide that level of accessibility now, but you will certainly have to in the near future.


2) Core-integrated self-service that is ADA-compliant.
The ADA is likely to uphold accessibility standards they've set, which will force banks and credit unions to update and improve their self-service hardware and/or software, because the necessary technology to reach these requirements already exists. Whether or not these standards are upheld, you can either keep up or get ahead of the competition through integration software and potentially new hardware assets. And you don't have to look far to find the best self-service core integration software on the market.
A banking software called GENIX integrates self-service machines (like DBSI's NEXT & Source Technology's Series-9 and Series-10 kiosks) with your core & provides an ADA-compliant user interface NOW. These implement self-service options with large buttons and easy-to-read displays, as well as offering alternative methods of completing transactions like:
Log-in using a debit card, driver's license, or biometrics
View account activity
Print account history and receipts
Deposit cash and checks
Withdraw cash in any denomination
Make change, to the penny
Print cashier's checks
Transfer money between accounts
Pay bills
Request associate assistance
And a lot more!


3) You can save money!
By implementing tablet-based associates and updated self-service options, banks and credit unions can reduce costs by diminishing the minimum amount of staff needed to assist clients, increasing operating efficiency, and decreasing maintenance costs.
If all of your staff can service every need or query a client might have in a single visit, from anywhere in the branch, and using optimized TCRs, you would be able to cut out wait lines and therefore reduce the amount of staff you need to run a branch. Then, add in self-service ITMs and kiosks to handle ALL transactions.
This not only saves the institution money, but also allows employees to focus on more complex tasks, such as loan processing and financial planning—making your FI more revenue. Everything about that just screams efficient, effective, and awesome!


4) Enhance the customer experience, and your brand.
With tablets and self-service kiosks, clients can quickly and easily access their accounts, check their balances, pay bills, and more. This convenience means less time waiting in line at a branch and more time doing the things they love.
While these changes may require some upfront investments, they ultimately benefit everyone. By making self-service options and ATMs more accessible, banks and credit unions are able to provide a better experience for all clients, while also complying with the law.
Providing ADA-compliant self-service machines can give banks a competitive advantage over other financial institutions that fail to provide these accommodations in a number of ways:
Improved customer satisfaction & loyalty

: By providing accessible self-service machines, banks can improve the customer experience for people with disabilities, which can lead to increased customer satisfaction and loyalty. This can be especially important in today's competitive banking market, where customer satisfaction is a key factor in attracting and retaining clients.




Increased accessibility: ADA-compliant self-service machines can make it easier for people with disabilities to access banking services, which can increase the number of clients who use these machines. This can help banks attract and retain more clients, as well as increase revenue from transactions completed through these machines.


Positive brand image: Providing ADA-compliant self-service machines can help banks demonstrate their commitment to accessibility and inclusivity, which in today's world, will go a long way to improving their brand image and reputation in society. This can be especially important for banks that want to be seen as socially responsible and responsive to the needs of all their clients.
As technology continues to evolve, we'll likely see even more changes in the way self-service options and ATMs are designed and implemented. Self-service core integrations are the most simple, cost-effective, and flexible solution to changing inclusivity and accessibility regulations. By prioritizing ADA compliance, banks and credit unions can create a more inclusive and accessible banking experience for all clients.